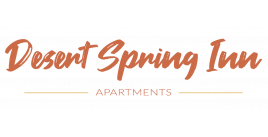 Community Amenities
Online Payments Available

Free e-check option
Accepts credit card payments
Accepts cash payments via MoneyGram
On-Site Maintenance

Walking Distance to: Post Office, Grocery Store, Restaurants, Hospitals, Bus Lines, and More ...
Apartment Amenities
Please note, not every apartment in our community has each and every amenity listed below. To hear about the amenities of your new home please contact us at 702.425.1080. Our friendly staff will be happy to assist you with your needs and wants.
Air Conditioner

Central Air

Floor to Ceiling Living Room Window with Blinds
Gas Stove

Kitchen

Vinyl or Tiled Flooring
Uncovered unreserved parking- no cost
The detailed information regarding Desert Spring Inn Apartments for rent in Las Vegas, NV is just the beginning. In addition to viewing the floor plans and amenities available, check out the bedroom and bathroom options. Desert Spring Inn Apartments offers up great floor plans, bedrooms, and bathrooms along with additional amenities. Located in Las Vegas, NV, Desert Spring Inn Apartments can be your next home. Decide if the apartment is the perfect fit by checking the additional information such as prices, photos, pet policies, property details and contact with the apartment community manager today!